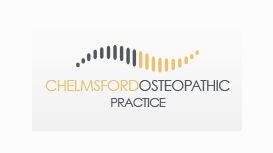 If you are looking for a registered osteopath in Essex, visit the Chelmsford Osteopathic Practice. We can provide treatment for a wide variety of ailments caused by injury or the stresses of everyday life. Whist many problems start as small aches and pains, they can often become more significant problems if not treated. Osteopaths are highly skilled practitioners who assess the mechanics of the body, not just the bones, joints and muscles but the whole body.
Osteopathy is an effective solution for all ages. An Osteopath can advise you on appropriate exercise programmes, correct seating at home and at work, how to lift correctly, how to improve your diet and many other aspects of general health that may be appropriate to aid your full recovery. It helps restore the function of the musculoskeletal system including ligaments, joints and muscles.
The above list is not exhaustive as there are endless benefits to Osteopathy.
Reviews and Ratings
We do not have any reviews about Chelmsford Osteopathic Practice available right now.