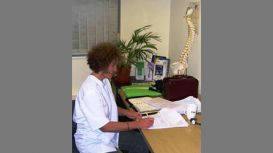 Dianna has been a registered Osteopath for 17 years, specialising in back pain, joint pain and Cranial Osteopathy. Since graduating from the College of Osteopaths, Dianna established her own practice in Crouch End, North London, she has also been teaching at the Sutherland Cranial College in the UK and abroad for last the 8 years. Dianna also treats children with special needs, at Palace for All, addressing physical problems, sensory intergration and behavioural issues through cranial osteopathy.
Osteopathy is not only a way of treating bad backs and painful joints, it is a hands on approach that works with the body's ability to self-heal and self-regulate. So why do you need an osteopath if the body is self-healing? Sometimes you take your body into extremes (too much lifting and twisting, too many hours slouching at a computer, too much force in that football tackle or car accident) and then the body finds it difficult to make the necessary correction on its own.
---
Reviews and Ratings
We do not have any reviews about D H K Osteopath available right now.